Ron and I met on Ancestry–we have never met in person! We are fourth cousins through my father's mother's line! (Let me hear you say that five times!) Our mutual interest in genealogy and family history, plus our DNA match sealed the deal, leading to our great friendship! Yesterday, Ron turned 80 years old–or maybe that was 8, a mere child, according to him! LOL
We talked via video chatting on Facebook, we are so tech savvy! LOL After the "congratulations", we talked about his sadness over the loss just a few months ago of his beloved wife Dorie Hogue. Turning eighty didn't feel as great without his best friend of 62 years!
However, as we talked, Ron shared a phone conversation he'd had earlier in the day with his sister Sue. Ron lives in Wisconsin, Sue is in Minnesota, and I am in North Carolina! They had reminisced about their childhood, in a rural area just outside of Park Falls, Wisconsin. Many of the stories brought our laughter bubbling up from the depths of our souls!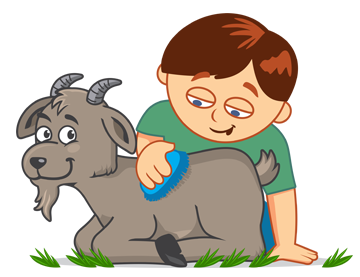 https://kids.spcaeducation.org.nz/animal-care/goats/freedom-from-pain-injury-or-disease/
We were talking about pets, as he just got a new kitty for his birthday. He recalled that when he was a boy, his family had chickens, dogs, cats, and his especially beloved Billy Goat! He recalled tussles with the rooster pecking at him and other family members. He could clearly describe the fascinating hens with their red feathers and green feather topknots! But Billy—was his love, and his nemesis! LOL
Stubborn Goat
Ron recalled that it was his job to put the free-ranging goat back into his cage every night! Of course, the goat wanted no part of leaving his beloved freedom, so he turned into a stubborn Donkey! Twelve year-old Ron could be seen wrestling with the goat–determined to "be the boss", LOL–as he tugged the goat while the goat just dug his front legs in deeper and lowered his head, but never charged our Ron! LOL
The story I loved however, was when Ron told me that he remembered his grandmother spoiling Billy the Goat as if he were her baby. Billy would come to a back hall door of the farm house in which they lived. He'd bleat until Grandma would come to the door to say "Good Mornin' Billy!" Then she would step back, swing the door wide, and Billy would trot right into the house–head held high and a big smile on his face–trotting right through other rooms until he reached the kitchen! There he stood right in front of the cabinet holding the bread box, and began to bleat loudly again! Grandma would say "Okay, okay, its coming Billy, be patient!" LOL Then she would open the bread box and take out one slice of bread–giving it to the hungry, expectant goat! Nodding his head in thanks, Billy clamped the bread tight in his mouth, turned, and trotted right back out the back door! Once outside, he gobbled his tasty morsel and bleated his thanks again as he ran off to play with the other animals!
https://www.dreamstime.com/stock-illustration-happy-cartoon-goat-illustration-image59607322
Wow! Can't you see it, can't you feel the charm, the love, the sense of family and community! What a story! Thanks so much for sharing it with me cousin Ron Hogue! What a treasure–both you and the story! So glad we both love family and genealogy!
This gallery contains 6 photos